Child Doctor Service WordPress Website – Showcasing my Skills and Expertise
Introduction: I am thrilled to present a recent addition to my portfolio: a captivating Child Doctor Service WordPress website. This project beautifully demonstrates my skills as a web developer and showcases my ability to create visually stunning and user-friendly websites. Let me share a few highlights of this exceptional website, illustrating my expertise in crafting engaging online experiences for medical professionals.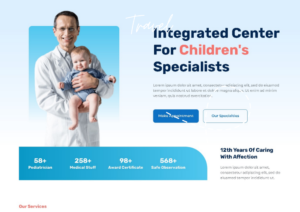 Expertly Designed Interface: Through meticulous attention to detail, I have created a visually appealing and intuitive interface that instantly captivates visitors. The website's layout and color scheme are thoughtfully designed to evoke a sense of trust and comfort, essential qualities when it comes to healthcare services for children.
Seamless User Experience: The website's navigation is optimized to ensure a seamless user experience. Visitors can easily explore the various sections of the website, from the informative service pages to the appointment booking system, with intuitive menus and clear calls to action. I have focused on enhancing usability to guide parents effortlessly through the website.
Engaging Content and Imagery: Compelling content is crucial for connecting with parents seeking healthcare services for their children. Through engaging copywriting and carefully selected imagery, I have created a website that conveys the doctor's expertise, compassion, and commitment to delivering top-notch care.
Online Appointment Booking: To streamline the process of scheduling appointments, I have integrated a user-friendly online booking system. Parents can conveniently select their preferred dates and times, reducing administrative tasks and improving accessibility to the doctor's services.
Mobile Responsiveness: Recognizing the importance of mobile devices in today's digital landscape, I have prioritized mobile responsiveness. The website is fully optimized for smartphones and tablets, ensuring an exceptional browsing experience across all devices.
Testimonials and Success Stories: To build trust and credibility, I have incorporated testimonials and success stories from satisfied parents and patients. These personal accounts highlight the positive impact the doctor has made, reinforcing the website's authority and fostering confidence in the doctor's abilities.
Emphasis on Education: By featuring a dedicated blog section, I have created a platform for the doctor to share valuable insights and educational resources. Parents can access informative articles, tips, and resources on children's health, establishing the doctor as a trusted source of knowledge and care.
Conclusion: The Child Doctor Service WordPress website in my portfolio reflects my ability to create visually appealing, user-friendly, and informative websites tailored to the unique needs of medical professionals. Its engaging design, seamless functionality, and emphasis on user experience demonstrate my expertise as a web developer. By adding this project to my portfolio, I am confident that potential clients will recognize my skills and choose me as their trusted partner for their website development needs.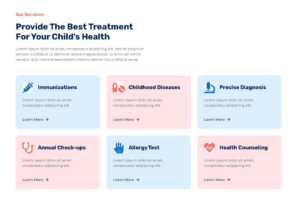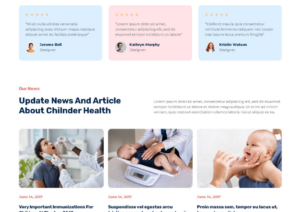 ---
Frequently Asked Questions
Can the website be further customized to match my branding? Absolutely! The website's design can be customized to align with your branding and personal style. From colors and fonts to imagery and layout, I can tailor the website to reflect your unique identity.
Can the appointment booking system be integrated with other software or platforms? Yes, the appointment booking system can be integrated with various third-party software or platforms. Whether you prefer to sync it with a specific calendar application or integrate it with a larger practice management system, I can adapt the website to meet your specific requirements.
How can I update and maintain the website once it's completed? As a WordPress website, the platform offers an intuitive content management system that allows easy updating and maintenance. I will provide you with documentation and guidance on how to manage and make changes to the website's content, ensuring you have full control over its upkeep.
Date: January 25, 2020
Categories:

Template

Wordpress

Client b2hb4w
Live Preview bslthemes.com